The Indian Air Force Museum
1958-1960.
---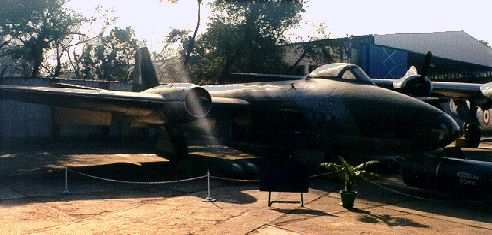 English Electric Canberra B 58

The English Electric Canberra is one of the longest serving combat aircraft with the IAF. Now in its Forty Third Year, It saw action in all conflicts since 1957 including the Kargil Operations.
---
Hawker Hunter F Mk 56a

BA263 represents the 220+ Hunters that served with the IAF. Even today the Hunter equips No.2 TTU "The Banners". It is scheduled to be phased out in this year (2000)
---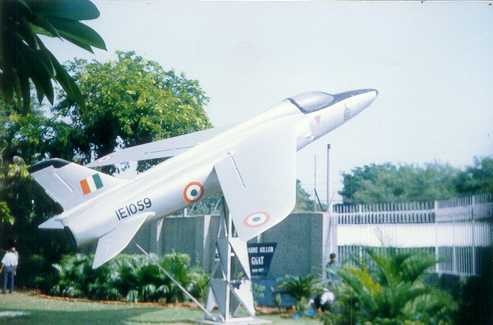 Folland Gnat

IE 1059 was the first Gnat evaluated by the IAF. This Gnat greets the Visitors at the Entrance. In 1958, It was flown as a complete unit in a Fairchild Packet aircraft from the UK to India for evaluation.
---
HAL Ajeet (Gnat Mk 2)

E 2016. The Ajeet was inducted in the late 1970's and was phased out in 1990s. When the Ajeets were phased out this last example was flown straight from No.2 Winged Arrows Squadron from its base in Kalaikonda to the Museum.
---
HAL Ajeet (Gnat Mk 2)

Another View of the Ajeet from No.2 Squadron. "RAJA" is still maintained in Airworthy condition by the Historic flight.
---
Mil Mi-4

BZ 900 is one of the 121 Mi-4 Helicopters acquired by the IAF. Powered by a radial engine, Its drone was a familiar sound in the North East and in Ladakh.
---
All Photographs above except where acknowledged are copyright of P V S Jagan Mohan. The above cannot be published without prior permission .