The Indian Air Force Museum
1964-1968.
---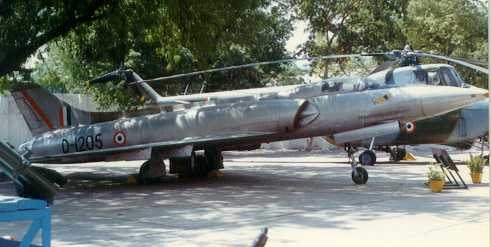 HAL HF-24 Marut

D 1205 stored in the Outside Gallery. The Marut was an indegenious fighter. It saw action in the 1971 War, and has scored some kills too. It could barely reach supersonic speeds in level flight. an impressive fact considering its engines did not have afterburners.
---
The SA-3 (VK-74 )Surface to Air Missile


The Flying Telegraph Pole: A SA-3 Surface to Air Missile doing the gate gaurdian duty at the Museum. On the first day of the 71 War, It took three of these to bring down a B-57 Canberra.
---
HAL HAOP-27 Krishak

The Krishak was an indigenously developed AOP aircraft. This aircraft is N 943
---
Tupolev Tu-124

The Tupolev 124 formed the mainstay of the IAF's VIP flight "Pegasus" Squadron for the 60s and 70s. Photo reproduced with kind permission of Simon Watson, http://www.samolet.co.uk/
---
Sukhoi-7 BMK (Type S-22)

Sukhoi - 7 BMK (Type S-22) S.No. B 888 in pristine condition at the IAF Museum. A Very effective Air to Ground Interdictor, it sufferred very heavy losses during the 71 War. (Pic Courtesy : IAF)
---
Sukhoi - 7 Tail Section "Manget"


The Tail section of the badly damaged Sukhoi-7 flown by Wg Cdr H S Manget in the 1971 War. The Tail Section was peppered with holes after being hit by a Sidewinder Missile.
---
All Photographs above except where acknowledged are copyright of P V S Jagan Mohan. The above cannot be published without prior permission .