The Indian Air Force Museum
The 1970's
---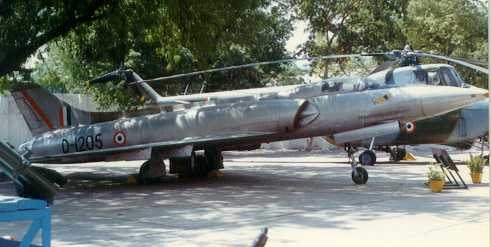 A HAL HF-24 Marut. The Marut was an indegenious fighter. It saw action in the 1971 War, and has scored some kills too. It could barely reach supersonic speeds in level flight. an impressive fact considering its engines did not have afterburners.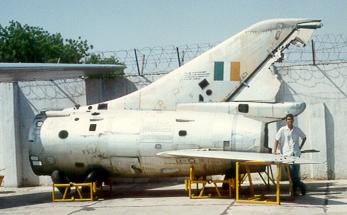 The Tail Section of the Sukhoi-7 flown by Wg Cdr H S Mangat OC 32 Sqn in the 1971 War. The Rudder as well as the elevators were completely shot away by Pakistani Ack Ack Fire. Yet Mangat flew the aircraft back safely. someone had the sense to preserve the damaged section after the war. (The guy standing there is me!)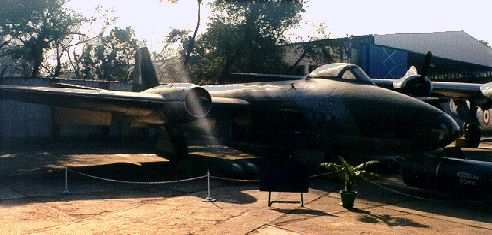 The English Electric Canberra served with the IAF for over 40 Years. They carried a crew of Two or sometimes Three into combat. (Pic Courtesy: Seetal Patel)
The Flying Telegraph Pole: A SA-3 Surface to Air Missile doing the gate gaurdian duty at the Museum. On the first day of the 71 War, It took three of these to bring down a B-57 Canberra.
A HAL Ajeet (Gnat Mk 2) E 2016. The Ajeet was inducted in the late 1970's and was phased out in 1990s. When the Ajeets were phased out this last example was flown straight from No.2 Winged Arrows Squadron from its base in Kalaikonda to the Museum.
Sukhoi - 7 BMK (Type S-22) S.No. B 888 in pristine condition at the IAF Museum. A Very effective Air to Ground Interdictor, it sufferred very heavy losses during the 71 War. (Pic Courtesy : IAF)
The Tupolev 124 formed the mainstay of the IAF's VIP flight "Pegasus" Squadron for the 60s and 70s.
Photo reproduced with kind permission of Simon Watson , other pics can be viewed at http://www.samolet.co.uk/
---
All Photographs above except where acknowledged are copyright of P V S Jagan Mohan. The above cannot be published without prior permission .